4 Reason to make Mina Brow scrub your friend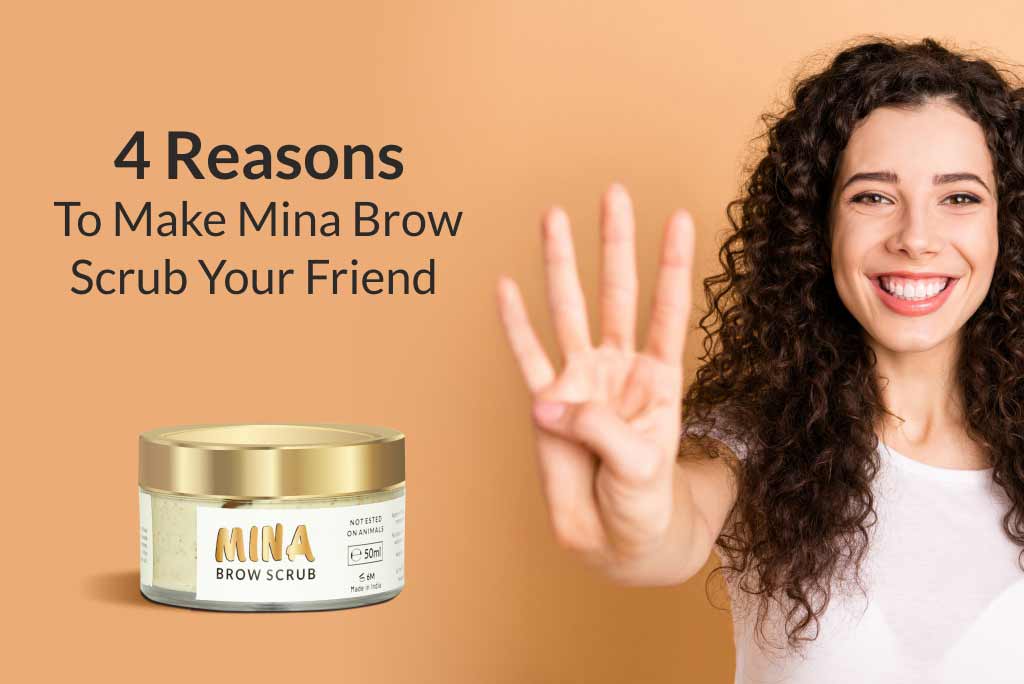 Exfoliating your face is most likely a frequent part of your beauty routine, but have you ever exfoliated your brows? Dead skin can readily accumulate behind the hair, leaving the region looking dry and flaky. Exfoliating your brows is also beneficial for growing them out since it stimulates and improves circulation to the hair follicles. Fortunately, brow exfoliating is simple—you simply need to know which products to use.
Sometimes facial cleansers are too gentle to exfoliate dead skin cells and stimulate hair follicles efficiently. Body scrubs, on the other hand, are frequently overly abrasive. You could buy a brow scrub.
If you prefer organic skin care products, Mina Brow Scrub is the answer to your scrubbing needs before the brow henna application.
The scrub removes dead skin cells, deep impurities, and excess sebum from the brow area. Smoothes and softens the skin, making it more receptive to additional care and treatments. The light texture with microparticles is gentle on the skin, delicate, and easy to remove.
Mina Brow Scrub is a non-greasy, lightweight scrub formulation designed to exfoliate dead skin cells on the brows and surrounding area. It's a potent, detoxifying self-treatment for brows that intensifies and prolongs the henna coloring effect. It contains natural components that assist to preserve moisture, exfoliate dead skin cells gently, and soothe the skin. It also helps brow hair grow healthier and stronger, giving them a more natural appearance.
Why should one choose Mina Brow Scrub?
For starters, it is an organic brow scrub with no hazardous compounds, such as parabens or SLES/SLS. A light and gentle brow exfoliation experience that is also gentle on the skin which makes it suitable for all skin types, hence not giving any permanent damage to your brow area or brow hair. Additionally, as the brand has a vegan and cruelty-free policy, the product is not tested on animals.
What are the benefits of exfoliating your brows with the scrub?
A way to get rid of impurities
Dead skin tends to form beneath the brows on its own, giving them a dry and flaky appearance. Exfoliating them with Mina Brow Scrub removes dead skin cells while also drawing trapped impurities, toxins, and debris from deep within the pores.



Sustains henna tint on eyebrows for long-time


The finely crushed particles of the eyebrow scrub gently exfoliate the upper layer of the skin, thoroughly clearing it of excess debris that collects on the surface and, as a result, enabling greater pigment penetration. A beautiful brow finish is achieved by coloring over unclogged pores and cleansed skin with no extra oil.
A natural answer to exfoliation


Mina Brow Scrub gently moisturizes and hydrates the skin surrounding the brows with its natural restorative characteristics, which include shea butter, wheat germ extract, almond oil, jojoba oil, grapefruit seed extract, and organic passion fruit juice.



No harmful chemicals to harm you


Mina Brow Scrub does not include any dangerous chemicals such as parabens, SLES, or SLS. It is a vegan, cruelty-free, and all-natural scrub. It includes no animal extracts or components and has not been tested on animals.