How Are Brows Decade's Biggest Beauty Trends? How To Maintain Them?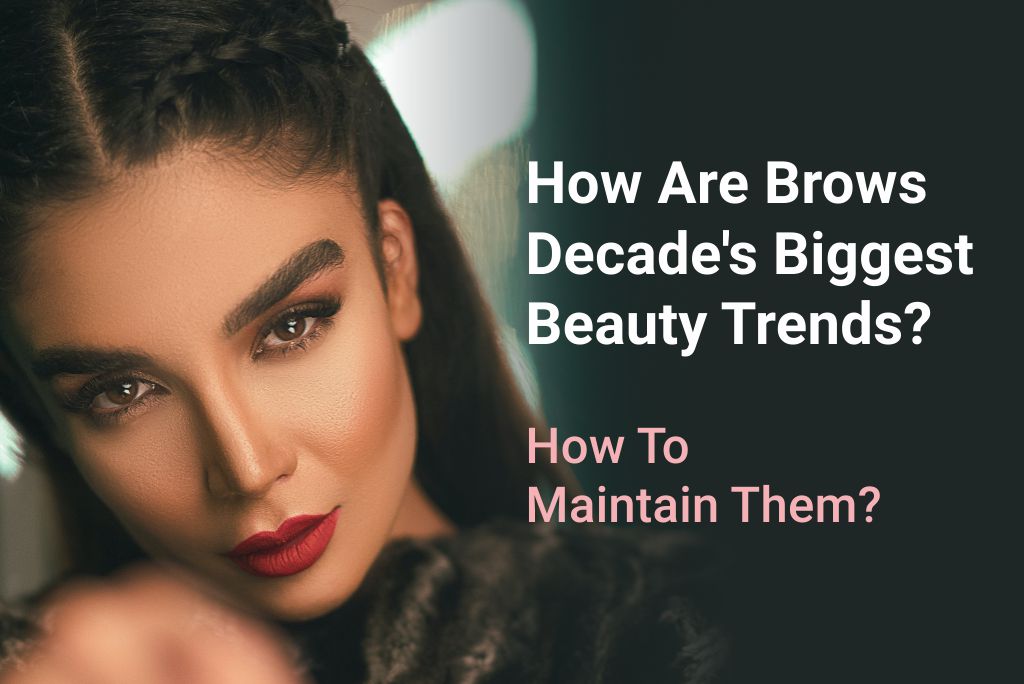 Due to celebrities like Cara Delevingne, eyebrow grooming is a booming industry. Brows can be fluffy, HD, or tattooed. In the Middle East, Korea, and his native America, they prefer them to be dramatic, straighter, and have a "soft, fluid look." In the UK, brows now generate £20 million in revenue, up from £6.5 million five years ago. NPD, a market research firm, estimates that British women spend £200 annually on brow grooming. The transformation of brows from a trend to a boom makes this decade's beauty story.
Eyebrow transplants and microblading, a type of tattooing that adds minute strokes of ink to simulate hairs and lasts up to three years, are recent advancements in brow design. Searches for threading and tinting are up 50% countrywide.
In parallel, eyebrows are now more visible in popular culture. Eyebrows on fleek, a phrase used in a 2014 Vine by American girl Peaches Monroee to describe eyebrows that were particularly gorgeous, became popular. The hashtags #brows and #browsonfleek are used in more than three million and 600,000 Instagram posts, respectively. On YouTube, there are more than 500,000 instructions with various illustrations showing you how to get perfect brows.
2016, which is frequently referred to as the decade's "hinge," or the point at which the style of the 10s (or whatever they are called) is becoming firmly established. If Twiggy's eyelashes and Bernice's bob represented the 1960s and 1920s, respectively, then Cara Delevingne's eyebrows will undoubtedly represent the current decade. Delevingne, or Her Eyebrowness as she is referred to in the September issue of Vogue, is to credit for the fact that young girls worldwide now have a brow icon. The Delevingne brow is longer than yours, sits low on the face, is darker than your hair, and extends toward the hairline and nose.
While brow henna by Mina Ibrow Henna is a natural answer to maintaining the best brows. You may put a stop to all of your high chemical problems by picking Mina Eyebrow Henna's line of chemical-free products, which also happens to be the Best Eyebrow Henna Tinting Kit due to its fully organic essence. They make excellent use of long-lasting eyebrow pigments that are also chemically safe.
This eyebrow tinting kit comes in a variety of hues namely, black, dark brown, medium brown, light brown, golden brown, copper brown, burgundy, blonde, ash blonde, pearl grey, graphite, and grey brown, and has an essence that contains no ammonia to shield you from the several negative effects that ammonia is renowned for. The strong, pungent odor that is distinctive from ammonia has been observed to cause respiratory problems in many people who are sensitive to such strong fragrances. The Mina Ibrow Henna Kit produces a completely safe product that can be used on all types of skin and has no negative effects.
But How Do You Maintain Them?
Our body and head both have hair, much as our brows. The strands of amino acids and the protein keratin give hair its tensile strength. For a variety of reasons, the hair follicles may degenerate and start to fall out, leaving thin eyebrows. If you want your beautiful eyebrows back—regardless of whether they were lost as a result of genetics, illness, or hormonal imbalance—try one of these oil remedies for thick eyebrows.
Castor oil
The hair is now thicker and richer than it was before, and it promotes hair growth. If you want thicker eyebrows in less than six weeks, make sure to use organic cold-pressed castor oil and use it every day.



Coconut Oil

Your eyebrows are made of protein, which coconut oil protects from evaporation and fortifies. Because of the antibacterial properties of the auric acid in it, hair follicles are protected from infection. This encourages your brows to grow more quickly. For optimum results, apply coconut oil to your brows three to four times per week or daily.

Olive Oil
Vitamins A and E included in the olive oil help to build hair. Vitamin A stimulates the body's natural oil, sebum, to generate more, which boosts hair development while vitamin E nourishes each hair strand.
Although you have a choice for all of them, this product is specifically designed to nourish your brows.
The popular Mina Brow Nourishing Oil was developed specifically to encourage and stimulate the growth of eyebrows. It provides the sparse, empty, patchy brows substance and gives them the appearance of being thicker and fuller. This oil, which promotes the development and gives you thick, lush brows, contains nourishing and stimulating ingredients including Argan Oil, Castor Oil, Sweet Almond Oil, Rosemary Oil, and Geranium Oil. The dropper in the handy 30 ml vial makes application quite simple. The oil works wonders for helping you grow thick, well-groomed brows that frame your features for a flawless, young appearance.