The Do's and Don'ts for Henna Eyebrow Tinting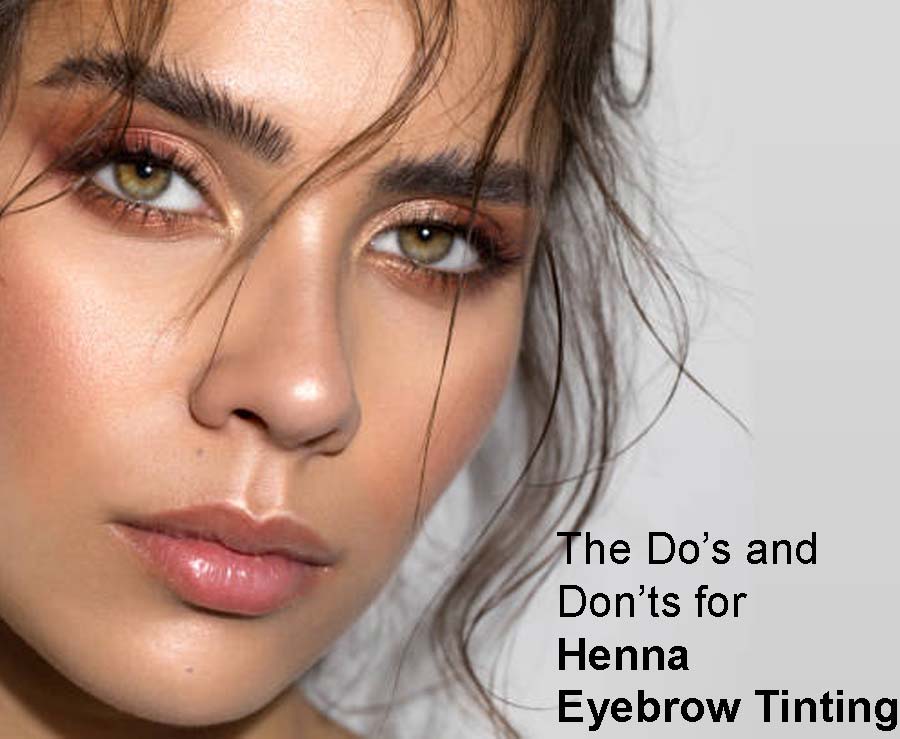 When it comes to getting a brow makeover we come up with numerous ideas; from searching on the internet for that perfect reference pic to trying different eyebrow colours. Many a times we also walk out of the salon feeling underwhelmed… Why? Or, you tried henna eyebrow tinting at home but the new color doesn't quite fit in.
So, here are a few do's and don'ts that might become your biggest henna brow tint saviors. Read on:
1.  Always start off with a patch test
It's always recommended to perform a skin allergy test 24-48 hours before every use, as allergies from brow tints can develop suddenly also, even if you have been using a particular eyebrow tint from your favourite brand or another. Apply the henna brow tinting mixture to your skin behind your ears with a cotton ball or swab. Leave it for 24-48 hours. Then rinse the area with lukewarm water and pat dry with a clean towel. If no reactions like redness, tenderness or allergies appear, then you are ready for henna brow tinting.
2.  Pre-care before tinting
Always wash your eyebrows with a brow shampoo so that there are no oils, dirt and grime left on the eyebrow hair. This would allow the tint to settle in more quickly giving you that perfect colour you always wanted. You can use MINA Brow Shampoo for this as it is an enriching blend of nourishing herbs. Also wipe your eyebrows immediately before henna brow tinting with a swab dipped in mineral water to remove any excess accumulated dirt and oil. If you don't have mineral water handy with you, consider using MINA Rose Water.
3.  Care to be taken during tinting
Use mineral water or Mina iBrow Henna Rose Water to make your henna paste. Apply and keep the paste for about 25-30 minutes. Then wipe off the paste with
Mina iBrow Henna Cleanser
. If you wish to have a darker tint, we recommend that you wait for another 05 minutes and re-apply. Let the paste stay for another 20 minutes then again remove the tint using the cleanser.
4. Post-color care
Once your brows are clean and dry apply
MINA iBrow Henna Brow Nourishing Oil
. This will not just help the tint to stay longer, but will also help your eyebrows to grow denser, stronger and more lustrous. Apply Brow Nourishing Oil once-a-day on eyebrows and eyelashes for best results.
Post-color brow care treatment is very vital for preserving the henna eyebrow tint. Avoid direct sunlight for the next 24 to 48 hours, avoid swimming and avoid any chemical peels or jobs on your face for the next 24 to 72 hours.
Feel free to consult our henna brow specialists regarding any queries that you might have. Till then, happy tinting!