Stain Remover - To Remove that Extra Tint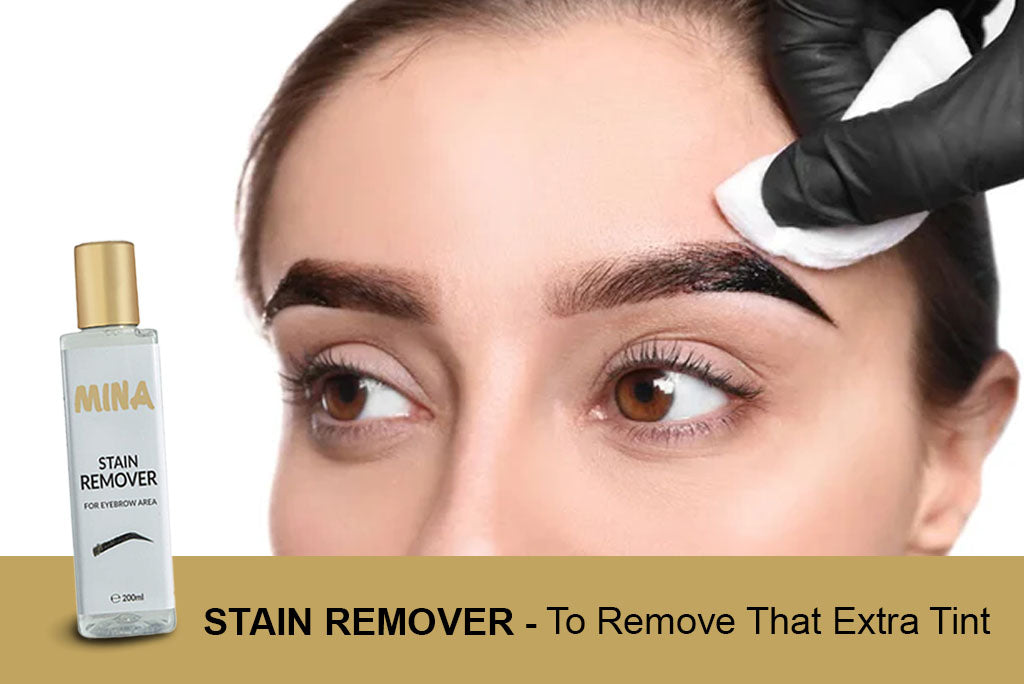 Doing the perfect henna brows at home is a task and surely since you ain't a professional, doing your brows without a few mistakes here and there would be impossible too but we haven't left you alone there.
The appropriate shade must be achieved when tinting your brows in order to avoid appearing and feeling a little out of place. But what about the stains that stay behind while doing your brows? You surely cannot wait for them to fade off with time, at least not for five days for them to lighten with time. Even though we advise you to seek professional assistance, we all realize mistakes can still be made.
Don't worry if you find yourself in this circumstance. You can take a number of actions to lessen the tragic eyebrow henna but the best solution would surely be the natural when it comes to Mina Ibrow Henna though, what needs to be looked at first is -
If your skin is oily, you might not need to worry as the extra marks around your tinted brows might fade away really quickly.
But if not, here's what you can opt for -
The Mina Brow Tint Stain Remover for the eyebrow area is a mild product made to get rid of stains or marks left over from applying eyebrow tint. The product is simple to use both at home and by experts to remove any stain from a client's skin. Your go-to product right after coloring your eyebrows is an eyebrow henna tint remover. The stain remover is gentle on the skin because it contains no toxic chemicals like parabens or sulfates.
The benefit of the stain remover is a consolidated list of how you save your day after a few mistakes that might be too prominent to you. The Stain Remover helps in the following way -
It helps remove excess tint and marks from the brow area.

There are no harmful substances in the product.

It is customized to suit all skin types.

A very simple and easy-to-use stain remover for your henna brows.

As we do not test our products on animals, hence, the product is purely vegan and crulety-free.
All you need to do is dab it on a cotton pad and sleekly remove the extra marks on the skin around your brow area. While it works like nail polish remover, you surely won't find any harmful chemicals in the product as the motto of the company is to always stay and go green.
The Himalayan Spring Purified Water is used to soothe and deeply cleanse the skin whereas the lemon peel oil (citrus limon) is present in the Mina Brow Tint Stain Remover to lighten spots and reduce discoloration.
While you need an instant solution to unnecessary stains on your skin, we are gifting you an impeccably natural way to help reduce the trail of effects post your brow henna application.
Mina Ibrow Henna offers a natural alternative to brow tinting with brow henna products available in 12 shades, namely black, light brown, dark brown, medium brown, golden brown, copper brown, burgundy, blonde, pearl grey, ash blonde, grey brown, and graphite. These shades are intricately divided into warm tones, cool tones, and natural tones. Unlike other brow tinting products, brow henna requires no activator and is purely a natural solution for your brows and their needs.