The Right Eyebrow Color for your Hair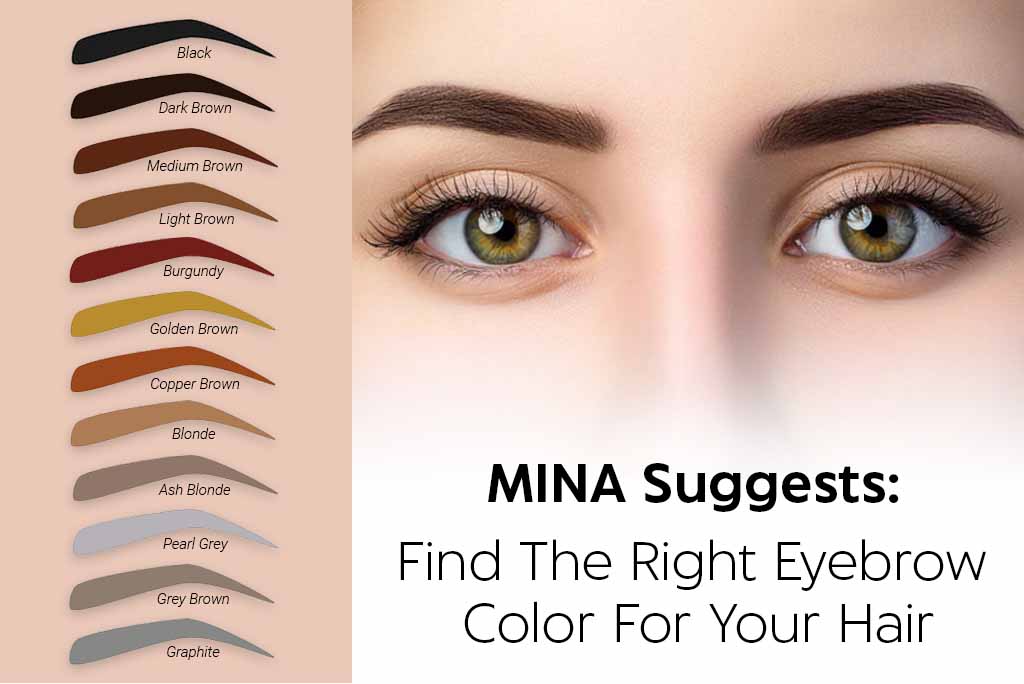 A new hair color requires careful consideration. The journey begins long before you take a seat in the colorist's chair. Before your salon visit, you tend to browse Instagram for ideas, make a Pinterest board for each conceivable color, and research what colors compliment your skin tone.
It's simple to neglect your eyebrows when you're so focused on changing the color of your hair, but it's equally crucial that they match your new dye job.
The facial hair you wear should frame and accentuate your natural attractiveness. Whether your style is powerful or gentle, getting the tones and levels just right is crucial. The general idea would be to keep it one shade darker or as close as feasible to the color of your hair.
So, which hue best suits you? For a detailed explanation of the ideal eyebrow color for your hair, scroll down.
The Hot-In-All Warm Tones
The Mina Ibrow Henna warm tones work wonders for the redhead beauties only when it isn't an exact match to your hair color. While the color of your hair and brows matter, what truly needs to contrast is the undertones. With vibrant options in Burgundy, Golden Brown, Copper Brown, and Blonde, Mina offers ample versions for the redheads to choose from. By giving your brows the same warm brunette hue as your hair, you may maintain a gentle overall appearance.


The Calming Cooler Tones
The blondes might not always go for match-making with their hair color hence picking the cooler tones would be a happy suggestion to them. The impeccable cool tones offered by Mina are the right start to contrast with your blonde hair color. Be it ash blonde, pearl grey, graphite, or grey brown, the shades suit interestingly with all blonde-heads. The cooler tones would highlight your face and enhance the natural beauty of your features. Cool ash-toned brows that are one or two shades darker than your hair color would also look fantastic with grey hair.


The Classic Natural Tones
Offered by Mina Ibrow Henna eyebrow tint black, dark brown, medium brown, and light brown would go perfectly with black hair. You may also choose a light brown color with the same warm undertones as your hair for warm blondes. Maintain dark brows that aren't excessively black or heavily shadowed. That is unless you want a bold appearance in which case you should choose a dark brown or black color for your brow henna. By the general rule of thumb, avoid going black on black for it'll terribly look devious with your little black dresses.


On a general pattern of thumb rules, the shade of your eyebrows should be chosen on the following ground in regard to your hair.
YOU SHOULD HAVE DARKER BROWS
Sorry to break it to you, but you may want to rethink the notion that your eyebrows should perfectly match your hair. In fact, unless your hair is entirely black, you should opt in for a shade darker in general. Having said that, avoid going too dark. To avoid a stark contrast, pick a color that is only one shade darker than your mane.
CONSIDER THE UNDERTONES OF YOUR HAIR
Your undertones affect not just what makeup will complement your skin tone the best, but also how you should match the color of your hair and eyebrows. Makeup for your brows should have complementary undertones to those of your hair shade.
REDHEADS MAY FINALLY FIND THEIR MATCH IN BROWN
It's usual for redheads to think that brows that match their hair color don't appear natural. Shades of brown may work better for brows on people who have red hair. Just be sure to pick a shade that complements your mane, like one with warm or copper undertones.
BROWS CAN BE SOFTER WITH BLACK HAIR
As we previously stated, with one exception, your eyebrows should be darker than your hair color. Depending on the aesthetic they're striving for, black people with black hair may find a deep black color to be too harsh. This implies that rather than using a strong black to sculpt your eyebrows, you can use subtle black or dark brown henna brows.
YOU DO NOT NEED TO WEAR GREY BROWS
It's acceptable if you don't want to wear grey eyebrows if you have grey hair; it's understandable. This light shade probably won't stand out as much against your skin and will keep your brows from seeming as prominent as most of us would like. Try a brown or ashy blonde hue that is one to two shades darker than your grey hair instead.